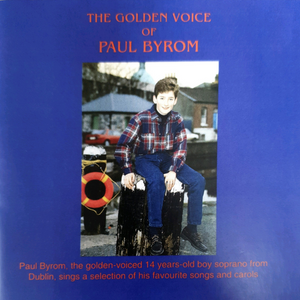 THE GOLDEN VOICE OF PAUL BYROM
Complete your collection of Paul Byrom's recordings with his very first album.
At the age of 14, Paul released this unique recording as a boy soprano. The album shows off his classical range at a young age, where he covers Irish ballads, liturgical hymn and some Christmas classics. A must have for any Paul Byrom fan.
TRACK LIST
1. Amazing Grace
2. My Lagan Love 
3. The Harp That Once Through Tara Halls
4. Danny Boy 
5. The Lark In The Clear Air
6. The Star Of The County Down 
7. Ave Maria 
8. Pie Jesu
9. How Great Thou Art 
10. Ave Verum
11. Panis Angelicus
12. Going Home 
13. Silent Worship
14. O For The Wings Of A Dove
15. Away In A Manger
16. Angels We Have Heard On High
17. O Holy Night
18. The Wind In The Willow
19. The Little Road To Bethlehem 
20. Silent Night
21. Adeste Fideles