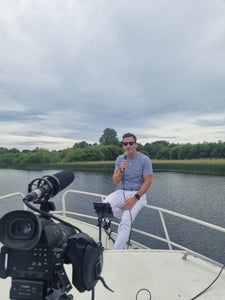 Summer On The Shannon - online performance
After returning to the live stage in February through April in America. Paul was delighted to finally get to sing some of his favourite songs from his latest album BY CONTRAST. As always it was lovely to see so many familiar faces and indeed meet lots of new ones. However, people continued to ask for him top continue with the online concerts. Paul has really enjoyed them, and has loved the fact that many who cant make it to the concerts, can still enjoy his perfomances. Forever trying to think of new ways to entertain, this performance is one of his most unusual.
Join Paul onboard NOCEANS. A lovely boat that lives on the Shannon River, Ireland. Here you will enjoy the sights and sounds of The Shannon as he sings some of his latest recordings and indeed one or two of the older pieces too. A continually proud Irish man, taking you sailing on the longest river in Ireland! Dont miss his most unusual recording yet!